As of 2017-??? hindenburg's only disk has failed and the new server is a used hetzner machine running much of the same on much more overpowered hardware. A study in minimalism, foiled by spinning rust. The new machine has RAID-1 at least.
About hindenburg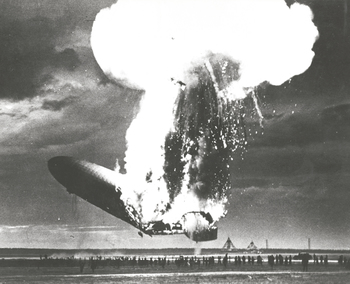 hindenburg.barfooze.de
Running FreeBSD 10 on Dell blade server with VIA Nano U2250 (1.6GHz), 2 GB ECC RAM, 500GB Seagate Laptop Hybrid HDD with 8GB MLC NAND SSD cache and 64MB DRAM cache. Hosted in Iliad DC3, Paris, by online.net.
Follows the general naming scheme of naming my computers after catastrophic events caused by human error. For more information about the LZ 129 "Hindenburg", see here.
Services and technologies
Quite a long list for such a low-powered machine, part of the reason for this is that I want to see how much I can actually run here with reasonable performance:
mail: Sendmail, dovecot, mimedefang, spamassassin, roundcube
xmpp: prosody running inside luajit
ircd: inspircd
files: FreeBSD ftpd, rsyncd, both low-traffic enough to be run from inetd
webchat: qwebirc behind nginx
http: nginx, php-fpm, mysql
packet filter: pf
local DNS forwarder: unbound
various: FreeBSD inetd, KAME dhcp6c, Mediawiki, letsencrypt, jails, OpenSSHd, newsyslog, UFS without softupdates
Projects hosted here
barfooze.de, my homepage
sabotage, a musl based linux distribution
mirrors for various other free software projects
IRCnet qwebirc
Xinutec qwebirc
Xinutec ircd
Xinutec XMPP Service
mumpitz.at
Aquaria mods mirror
Lost Vikings 3 wiki
Mail for a few different people
Mailing lists
Other things people run here
screen and tmux
irssi (ncurses IRC client)
mutt (ncurses mail client)
TTYtter (commandline twitter client)
syncthing
Recent changes
2016-02-28: Replaced lighttpd completely by nginx, switched everything over to letsencrypt
2016-11-03: Replaced last remaining instance of old SSL setup (mail services) over to letsencrypt
Planned
Mailman 3? I've switched away from mlmmj because it was fairly horrible and now switched to plain aliases based mailing lists, which is also fairly horrible, but a bit less.
Web interfaces for git/hg/svn/darcs?
ikiwiki?
dokuwiki?
replace sendmail by opensmtpd